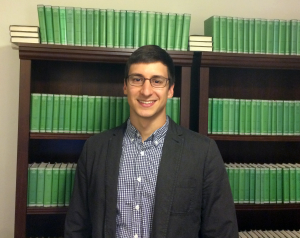 Contact Information
4070 FLB
707 S. Matthews
M/C 174
Urbana, IL 61801
Biography
I earned my B.A. in Classics from Case Western Reserve University in 2013 and  M.A. in Classics from UIUC in 2015. I am currently a Ph.D. candidate in Classical Philology. My research interests include Latin imperial epic, nature and the environment, natural history and philosophy, and ecocriticism. I am writing my dissertation on the role of nonhuman nature in Flavian epic.
Research Interests
imperial Latin epic, nature, ecocriticism, natural history, philosophy
Research Description
Forthcoming dissertation on nonhuman nature in Flavian Epic. Recently presented a paper at the 2020 Annual Meeting of the Society for Classical Studies entitled "The Best Defense: Triumphal Geography and Empire in Silius' Punica."
Education
M.A. Classics, University of Illinois, Urbana-Champaign, 2015
B.A. Classics: Greek and Latin, Case Western Reserve University, 2013
Courses Taught
LAT 101
LAT 201
LAT 202
LAT 401
CLCV 102
CLCV 115