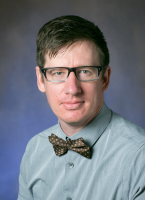 Contact Information
4051 FLB
707 S Mathews Ave
M/C 174
Urbana, IL 61801
Director of Undergraduate Studies, Assistant Professor
Biography
Brian Walters (B.A. University of Missouri 1998, M.A. University of Kansas 2003, Ph.D UCLA 2011) is Assistant Professor of the Classics and Translation Studies. His research focuses on Latin of all periods, but with particular emphasis on Cicero and the literature of the late republic.
Research Interests
Latin Literature, Cicero and the Late Republic, Classical Reception
Research Description
Professor Walters' current book project, The Deaths of the Republic (under contract with Oxford University Press), examines the often violent and morbid images of the body politic in late-republican literature and explores the role that these played in the political upheavals of the late-first century BCE.
His translation of Lucan's Civil War  (Hackett, 2015) grew out of his interests in poetics, translation, and the gruesome metaphors through which the Romans continued to figure their traditional republic's end. Other poetry and translation projects inspired by Lucretius and Propertius have appeared in recent issues of Arion (25.1 and 25.3).
His chapter titled "Reading Death and the Senses in Lucan and Lucretius," in Synaesthesia and the Ancient Senses (eds. Shane Butler and Alex Purves, Acumen, 2013) explores the disturbing constellation of death, reading, and meta-poetic metaphor in scenes of dying in the Bellum Civile  and De Rerum Natura. His article "Cicero's Silva (A Note on Att. 12.15)" in Classical Quarterly (63.1: 426-30, 2013) also addresses an issue of Roman metaphor. Another recent article, "The Publication and Delivery of Cicero's Post Reditum ad Populum," in TAPA  147.1: 79-100, 2017) argues that Cicero's speech to the people was pre-circulated in Italy before the orator's return to Rome. 
When not teaching advanced Latin, he frequently teaches classes on Neronian Literature, Roman Civ, and Roman Material Culture.
Additional Campus Affiliations
Assistant Professor, Center for Translation Studies

Recent Publications
Walters, B. C. (2017). The circulation and delivery of Cicero's Post Reditum ad Populum. Transactions of the American Philological Association, 147(1), 79-99.
Walters, B. C., (TRANS.) (2015). Lucan: Civil War. Hackett Publishing.
Walters, B. C. (2015). Reading Lucan's Light. Paper presented at Classical Association of the Middle West and South, Boulder, United States.
Walters, B. C. (2013). Cicero's silva (A note on Ad Atticum 12.15). Classical Quarterly, 63(1), 426-430. https://doi.org/10.1017/S0009838812000869
Walters, B. C. (2013). Murdering the Fatherland: (Patriae) Parricida/-ium in Late-Republican Invective. Paper presented at Classical Association of the Pacific Northwest, Eugene, United States.