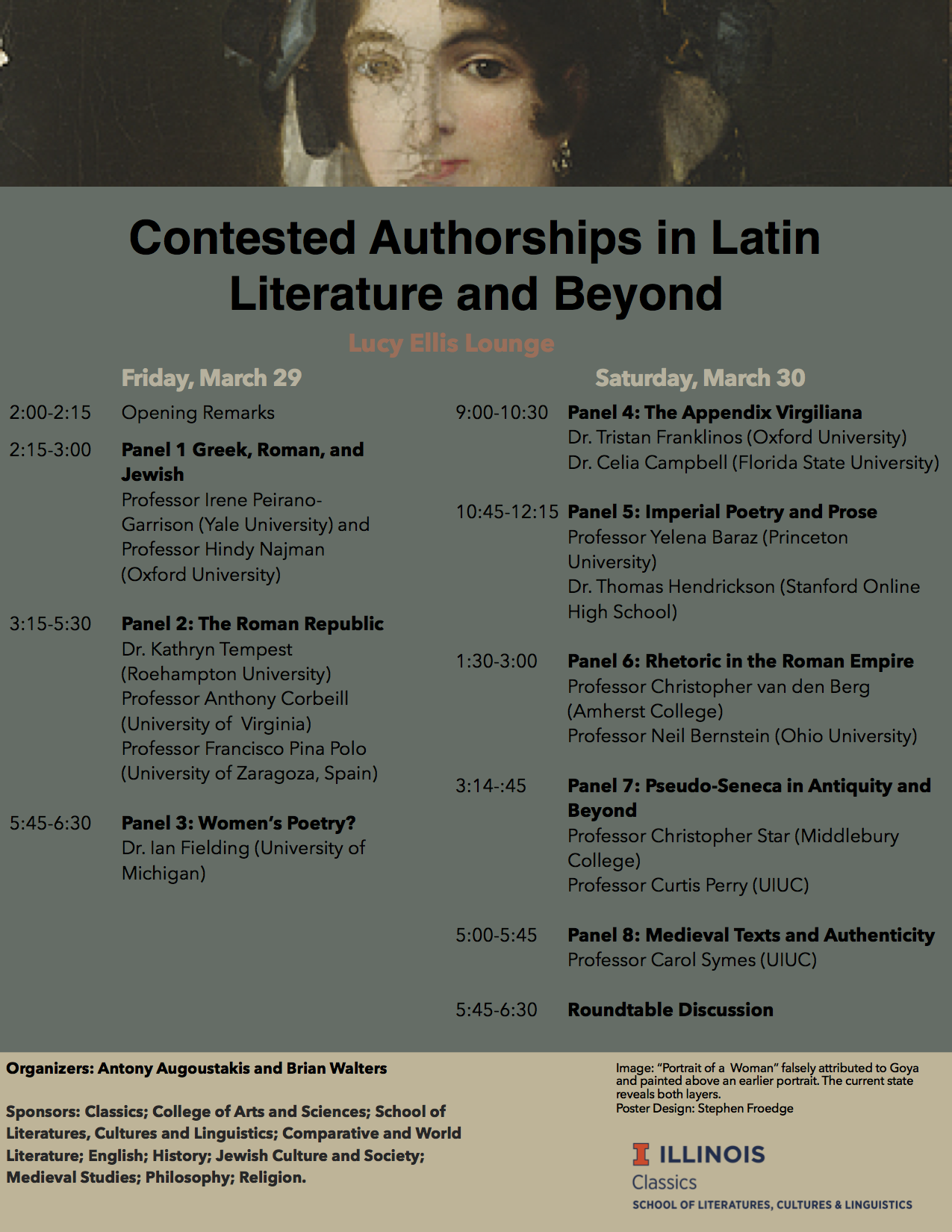 Contested Authorships in Latin Literature and Beyond
Organizers: Antony Augoustakis and Brian Walters; International Conference, March 29-30, 2019
Schedule
Friday, March 29
14:00               Opening Remarks

14:15-15:00     Panel 1: Greek, Roman, and Jewish (Chair: Brett Kaufman)
Professors Irene Peirano-Garrison (Classics, Yale University) and Hindy Najman (Religion, Oxford University)
"Pseudepigraphy as an Interpretive Construct: Beyond the Authentic"
15:00-15:15     Break

15:15-17:30     Panel 2: The Roman Republic (Chair: Brian Walters)
Professor Kathryn Tempest (Roehampton University) 
"The Latin Letters of Pseudo-Brutus (Cic.  Ad Brut.1.16 and 1.17)"
Professor Anthony Corbeill (University of Virginia)
"How not to Write Like Cicero: Pridie quam in exilium iret oratio"
Professor Francisco Pina Polo (University of Zaragoza, Spain)
"TheEpistulae ad Caesarem: A popularisProposal for the Republican Crisis?
17:30-17:45     Break
17:45-18:30     Panel 3: Women's Poetry? (Chair: Angeliki Tzanetou)
Dr. Ian Fielding (University of Michigan)
"The Authorship of Sulpicia"
Saturday, March 30
8:00-9:00         Breakfast

9:00-10:30       Panel 4: The Appendix Virgiliana (Chair: Antony Augoustakis
Dr. Tristan Franklinos (Oxford University)
"The First-beginnings of that divinus poeta: The Implications of Cat. 14 & 15 for the Authorship of [Vergil]'s Catalepton.
Dr. Celia Campbell (Florida State University)
"Seeing the Forest and the Trees: A New Reading of the Pseudo-Virgilian Dirae"
10:30-10:45     Break

10:45-12:15     Panel 5: Imperial Poetry and Prose (Chair: Ariana Traill)
Professor Yelena Baraz (Princeton University)
"Lost in Time: Placing Calpurnius Siculus"
Dr. Thomas Hendrickson (Stanford Online High School)
"Authentication and fides: Contested Books in Aulus Gellius"
12:15-13:30     Lunch

13:30-15:00     Panel 6: Rhetoric in the Roman Empire (Chair: Dan Leon)
Professor Christopher van den Berg (Amherst College)
"Authority, Authenticity, and Author in Roman Atticism"
Professor Neil Bernstein (Ohio University)
"In the Shadow of the Master: Reading the Pseudo-Quintilianic Corpus"
15:00-15:15     Break

15:15-16:45     Panel 7: Pseudo-Seneca in Antiquity and Beyond (Chair: Elenora Stoppino)
Professor Christopher Star (Middlebury College)
"Post mortem auctoris: The Fates of Pseudo-Seneca's Octavia and Hercules Oetaeus"
Professor Curtis Perry (UIUC)
"Hercules Oetaeus in Early Modern England: Two Ways of Looking at Reception"
16:45-17:00     Break

17:00-17:45     Panel 8: Medieval Texts and Authenticity (Chair: Clara Bosak Schroeder)
Professor Carol Symes (UIUC)
"Medieval Texts as Mediated Artifacts: New Forms of Authorship and Agency in an Age of Documentary Revolution, 1000-1215"
17:45-18:30     Roundtable Discussion and Concluding Remarks

19:00-20:30     Conference Dinner