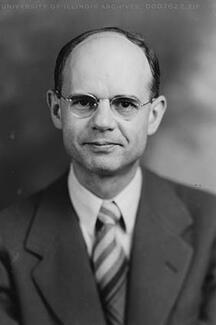 John Lewis Heller, who died on 6 November 1988, was professor of the Classics at Illinois from 1949 to 1975, serving as Head of the Department from 1949 to 1966. During this period, he was an energetic supporter of the Classics and especially of the teaching of Latin in Illinois schools. He was, for example, president of the Illinois Classical Conference and published several articles on Latin teacher education. He was also president of the American Philological Association, now the Society for Classical Studies. His scholarly contributions ranged throughout classical literature to the church fathers and especially Linnaeus.
In honor of Professor John Heller, an award was established in 1989 to be given annually to an outstanding graduating Classics major. Candidates will be evaluated for all-round academic excellence based on criteria including but not limited to: GPA in the major; performance in Classics courses; outstanding projects in Classics courses; current and past performance on national exams, such as the CAMWS Latin Translation Exam, the National Latin Exam, or the College Greek Exam; prizes given by the department, such as the Verse Composition prize and the Prize for Reimagining the Classics; performance in courses leading to departmental honors (GRK/LAT/CLCV 492 and 498); high quality research, such as papers delivered at conferences; outreach efforts to promote classical studies; and leadership in classics related organizations such as the Classics Club and Eta Sigma Phi.
The prize for this year (2024) will be $750 & will be conferred at the Classics Award Ceremony on May 10, 2024.
Past Winners
2023: Kyra Holzmacher and Stefanie Morrison
2022: Simon Kaplan and Jacob Sorge
2021: Marlena Johnson
2020: Brendan Labbe
2019: Elias Pagones
2018: Mitchell Mizerek and Olivia Gatti
2017: Thomas Hendrickson
2016: Hephestion Bolaris
2015: James Stark & Audrey Majors
2014: Haley Ward